INTERMOLD has been leading Japanese mold industry more than 35 years as only one exhibition to showcase state-of-the-art mold technology in Japan. Nowadays the manufacturing industry is required the transform the production to cope with changes in the business environment like carbon neutral, digital manufacturing, producing new materials.
INTERMOLD continues an aggressive approach to automotive parts, aircraft parts and electronics industries which work closely with molding industry.
In addition, the show covers Additive manufacturing, Digital transformation and future plastic processing as special themes to promote a new business matching between exhibitors and visitors.
We believe you can get a lot of business opportunities with this comprehensive business platform which offers contacts to all the steps of manufacturing starting from Machine Parts and Tooling Industries.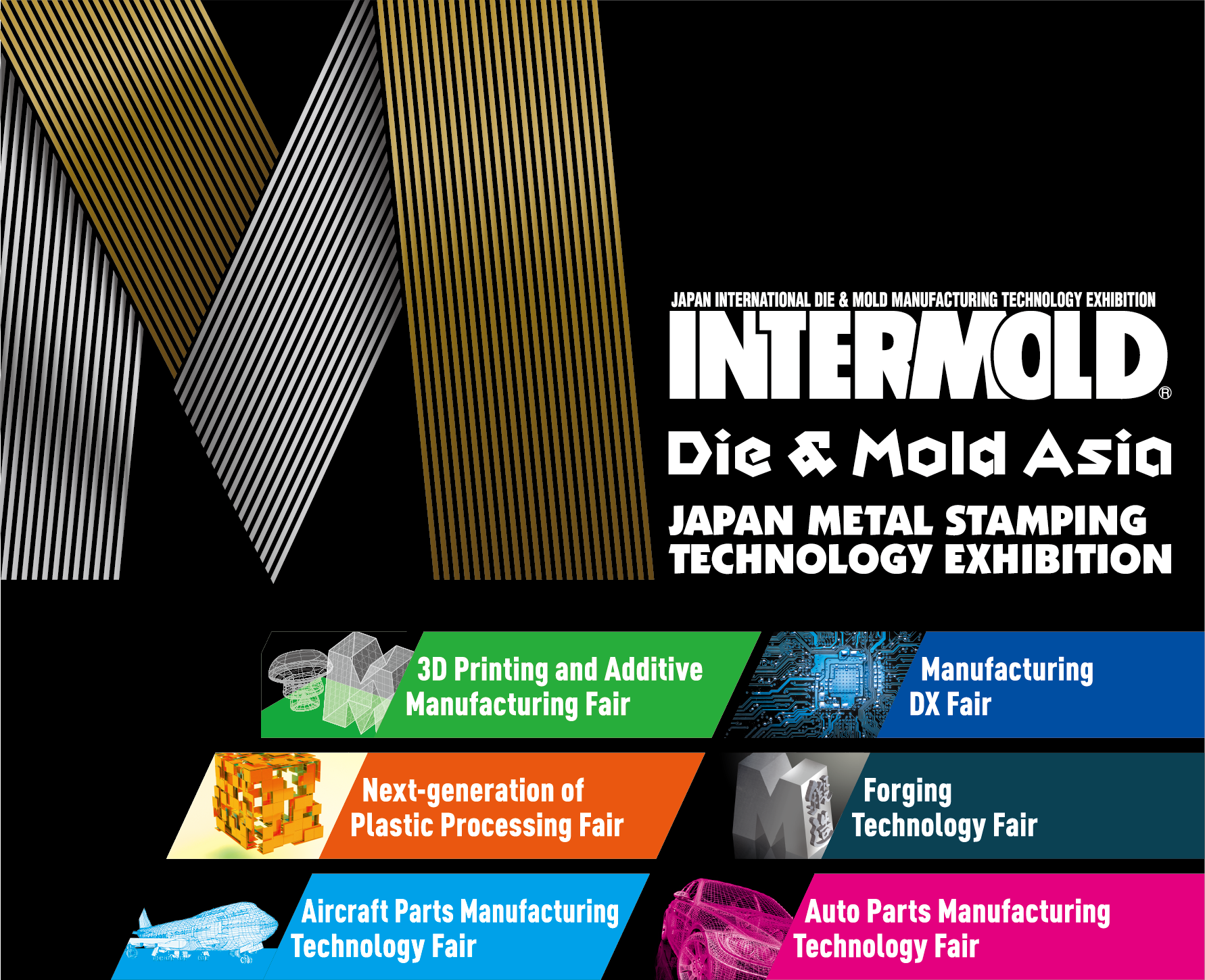 "Why INTERMOLD ?"
All process of molding, metal stamping, plastic parts manufacturing are gathered.
More than 38 times, it prove that INTERMOLD is the leader exhibition for related industry.
The cooperation between organizers and supported associations
Promotion of business matching with close industry.
Chances to communicating with organizer, visitors, and exhibitors.
Over the gap of 3 years under Covid-19, overseas business activities have been back, and people need any information about trade, investment and purchase. The show will be a good chance to grab a future business.
"Catch the industry demands"
The exhibition will be held in April at the beginning of the year and will be positioned as the planning for the annual purchase plan, and will be linked with the subsequent plans to aim for synergistic effects.
Nagoya, Gifu and Mie are the congested areas of material industries, and the center of automobile industries. Exhibitors can appeal the parts or material technology to Tier 1, 2 and 3 companies. Visitors are not only from these 3 areas but also from the neighboring region. This is the unique point of the show in Nagoya.
INTERMOLD OSAKA (2024) / Die & Mold Asia OSAKA (2024)
TITLE
INTERMOLD OSAKA (2024) / Die & Mold Asia OSAKA (2024)
OPENING TIMES
April 17(Wed) - 19(Fri), 2024
10:00a.m. - 5:00p.m.
VENUE
INTEX OSAKA
1-5-102, Nanko-Kita, Suminoe-ku, Osaka, 559-0034
ORGANIZER
Japan Die & Mold Industry Association
Television Osaka
SPONSORSHIP
Ministry of Economy, Trade and Industry
Ministry of Foreign Affairs
Osaka Prefectural Government
Osaka City Government
Japan External Trade Organization(JETRO)
Organization for Small & Medium Enterprises and Regional Innovation, JAPAN
The OSAKA Chamber of Commerce and Industry
Nikkei Inc.
*scheduled
SUPPORTING ORGANIZATIONS
Japan Machine Tool Builders' Association
Japan Forming Machinery Association
Japan Precision Machine Association
Japan Metal Stamping Association
Japan Machine Tool Importers' Association
Japan Cutting & Wear-resistant Tool Association
Japan Machine Accessory Association
Japan Precision Measuring Instruments Manufacturers Association
Japan Optical Measuring Instruments Manufacturers' Association
Industrial Diamond Association of Japan
The Japan Society for Die and Mould Technology
Association of Japan Plastics Machinery
The Japan Society for Technology of Plasticity
The Japan Society of Mechanical Engineers
The Japan Society for Precision Engineering
Japan Forging Association
Japan Die Casting Association
Japan Auto Parts Industries Association
Japan Foundry Society,Inc.
*scheduled for INTERMOLD Only
EXPECTED PARTICIPANTS
40,000 visitors
(includes visitors of Japan Metal Stamping Technology Exhibition)
ADMISSION
JPY3,000
(Free of charge with visitor pass after pre-registration)
EDUCATION PROGRAMS
- Keynote Address
- Technical Workshop and Private Seminar
- Business matching
- Others
CONCURRENT EVENT
Japan Metal Stamping Technology Exhibition OSAKA (2024)
MANAGEMENT
INTERMOLD Development Association
Phone +81-6-6944-9911
Email
Japan Metal Stamping Technology Exhibition OSAKA (2024)
TITLE
Japan Metal Stamping Technology Exhibition OSAKA (2024)
OPENING TIMES
April 17(Wed) - 19(Fri), 2024
10:00a.m. - 5:00p.m.
VENUE
INTEX OSAKA
1-5-102, Nanko-Kita, Suminoe-ku, Osaka, 559-0034
ORGANIZER
Japan Metal Stamping Association
Television Osaka
SUPPORTING ORGANIZATIONS
Japan Auto Parts Industries Association
Japan Forming Machinery Association
Japan Die & Mold Industry Association
The Japan Society for Die and Mould Technology
The Materials Process Technology Center
The Japan Society Of Industrial Machinery Manufacturers
Japan Die Casting Association
Japan Metal Heat Treatment Association
Japan Foundry Society, Inc.
Japan Forging Association
Japan Valve Manufacturers' Association
Japan Powder Metallurgy Association
The Japan Society for Technology of Plasticity
The Japan Society for Mechanical Engineers
The Amada Foundation
The Die and Mold Technology Promotion Foundation
*scheduled
EXPECTED PARTICIPANTS
40,000 visitors
(includes visitors of INTERMOLD and Die & Mold Asia)
ADMISSION
JPY3,000
(Free of charge with visitor pass after pre-registration)
EDUCATION PROGRAMS
- Keynote Address
- Technical Workshops and Private Seminars
- Business matching
- Others
CONCURRENT EVENT
INTERMOLD OSAKA (2024)
Die & Mold Asia OSAKA (2024)
MANAGEMENT
INTERMOLD Development Association
Phone +81-6-6944-9911
Email